The Four Peaks Oktoberfest is looking for volunteers!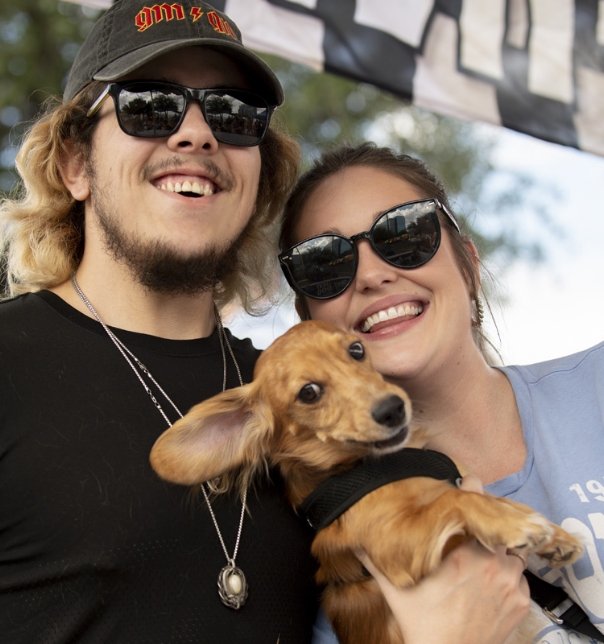 FAQs
Event Facts

Event Name: Four Peaks Oktoberfest @Tempe Town Lake
Event Address: 80 W. Rio Salado Parkway, Tempe 85281
Main Entrance: NW corner of Mill Ave & Rio Salado Parkway
Secondary Entrances: Lakeside under Mill ave. bridges and lakeside under the light rail bridge
Event Hours

Friday, October 13: 5:00 PM -12:00 AM (Midnight)
Saturday, October 14: 10:00 AM – 12:00 AM (Midnight)
Sunday, October 15: 10:00 AM – 8:00 PM
Admission

Friday $20.00 21 and over
Saturday $20.00 21 and over
Sunday Free Admission
Alcohol Sales

Friday/Saturday

Last Call: 11:45 PM
Beer Can Be Purchased Until 11:59 PM
Taps Close: 12:00 AM
Soft Push Toward Exits: 12:20 AM
Hard Push Toward Exits: 12:30 AM

Sunday

Last Call: 7:45 PM
Beer Can Be Purchased Until 7:59 PM
Taps Close: 8 PM
Soft Push Toward Exits: 8:20 PM
Hard Push Toward Exits: 8:30 PM

Every patron wishing to consume beer, wine, or liquor at Four Peaks Oktoberfest must provide valid and unexpired proof of age 21 at time of the event and submit to wearing a 21+ identification wristband.
Prohibited Items

Backpacks not allowed – Clear bags or single compartment only
Dogs and other pets – especially snakes
Service animals welcome
Weapons of any kind
Illegal drugs & medical/recreational marijuana
Cooler & beverage containers
Your own alcohol
Glass or glass containers of any kind
Lawn & folding chairs, laser pointers
Fireworks & explosives of any kind
Loud noisemakers, air horns & similar
Skateboards, roller blades, bicycles
Motorized vehicles of any kind
Drones of any kind
Popcorn
Umbrellas
Prohibited Actions

Soliciting or sales without the event's express, written permission
Entertaining activity without the event's express, written permission
Fighting, brawling, etc.
Foul language, lewd behavior

Oktoberfest organizers, security personnel and law enforcement officers have the right to refuse admittance and/or eject anyone from the festival for any reason.
Onsite Facilities & Services

Safety & Security: City of Tempe law enforcement officers and security personnel will be patrolling the entire festival site at all hours.

First Aid: City of Tempe Fire & Medical Services will be staffing the first aid station.

Restrooms: There will be 150 restroom units throughout the park.

Lost Children: The German Shoppe will serve as the centralized location for lost children.

Lost & Found: The German Shoppe will serve as the focal location for lost and found items.

Access & Movement: The entire site is flat and easily accessible by wheelchair, walker, crutches, etc.

Recycling: Make sure to recycle while you enjoy the Four Peaks Oktoberfest. Blue Bins = Recycling Green Bins = Landfill
Accommodations

Sonesta Select Downtown Tempe: Feel the pulse of Tempe at Sonesta Select. Our Downtown Tempe hotel offers an ideal location near some of the city's top attractions. Stay near the lively Arizona State University Tempe Campus, the esteemed Tempe St. Luke's Hospital, and the popular Tempe Marketplace.
Get your Four Peaks Oktoberfest tickets today!